Bahonar10
Bahonar10
In this project, the client requested to design one apartment with four levels. In the opinion of us as a designer, this project can be as one apartment with a novel view and concentration on the urban façade. Regarding the demand of the client, the position of spaces was planned in this pattern: bedrooms in the south and public rooms on the north side like the residential buildings in the neighborhood of the project.
However, after analyzing the position of the land, we understand that the building has a special view from the south to Ferdowsi University and also south heights of Mashhad. Moreover, the south light can warm the living room in the cold winter season of Mashhad, so that we decided to change the locating of spaces: the bedroom was shifted to the north side and other spaces were moved to the south side.
Besides that, for the request to urban façade and attention to the analysis of adjacent buildings, we decided to harmonize the geometry of major façade with neighborhood west and east buildings. As a result of this decision, we used the horizontal and vertical lines for the representation of geometry the word robs are a good answer for this issue.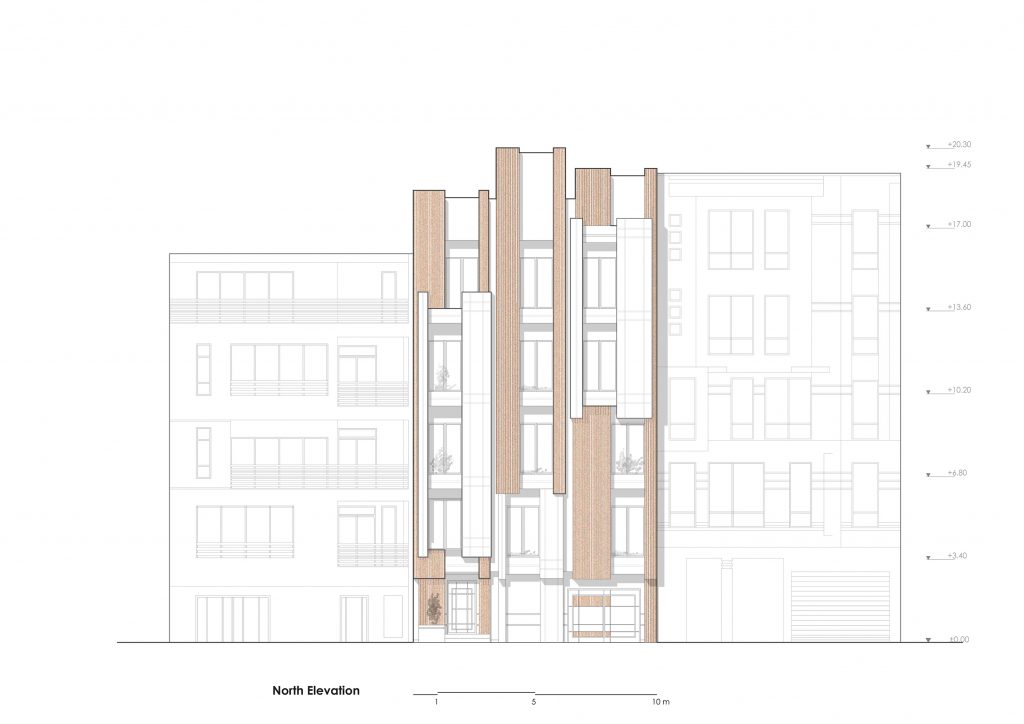 At first, word robs are a device to diversify of façade. We improved the design of the façade from a typical form with shifting the location of word robs the whole horizontal and vertical elements of the façade can play as warp and wood in the building for this reason. Some of these lines continued inside of the project.
Even though the major façade of the project is situated in the cold zone of land, the word robs can be regarded as abstracted to enter cold weather form outside to inside, and also we added the pots of flowers in front of windows for this issue.
After that, we used white travertine stone as finishing material for more matching to adjacent facades this material.
However, the wood was covered vertical sections of the façade we arranged the wooden material to cover at least one space in each level.
Overall, it can be felt good and nice sense with using vertical windows, wooden elements, and also pots of flowers on the terrace. This project was a different and specific experience because we succeeded to satisfy the owner demand to have a suitable home, and also to present the multi-level apartments with novel and creatively approach of respect to urban façade.
Location Mashhad, Iran
Client Sohrab Motie'
Year 2014
Status Completed
Program Residential
Team Javad Khodaee, Hesam-Al-Din Ban Sefat, Farajollah Sadeghi, Azam Soleimani, Hamidreza Shivaeian, Seyedeh Sara Javadpoor Reza Ashraf Yazdi, Navid Maani Ghafouri, Abbas Fadaee, Mojtaba Enayati
Collaborators Sohrab Motie'(Construction), Saeed Baradaran Hemati(Structure), (Electrical), (Mechanical)
Next Project
Nastaran
back to projects